3 Beautiful Piece Nighty For Women's in Pakistan | Teleone
You can now order your 3 Beautiful Piece Nighty & bras online easily with Pakbeautyshop.com ! There are several kinds of bras available online for you to buy inclusive of pushup bras, padded bras, sports bras and non wire bras, in all sizes and colors.
Our online store has the widest range of lingerie possible available on the website, featuring everything from starter training bras to everyday t-shirt bras, cosy pajamas to that one convertible bra that can solve all your problems. Best of all? It is all available at a wide range of competitive prices and with the best possible shopping assistance. We are here to help YOU have the best experience of your life! You'll never think twice about buying lingerie online in Pakistan with us!
Details :
Night Wear
3 Piece Nighty
Inner Gown Belt
Chest Free 21 to 26
Length 40
Stuff Printed Silk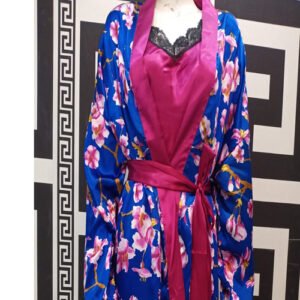 Why Choose Teleone.pk?
At our Teleone.pk we're committed to providing our customers with high-quality products that deliver real results. That's why we offer a 100% satisfaction guarantee on all of our products, including 3 Beautiful Piece Nighty. If you're not completely satisfied with your purchase, simply return it for a full refund – no questions asked.